Jaime S. Schwartz MD, FACS, is board certified in plastic surgery, a member of the American Society of Plastic Surgeons (ASPS), and a diplomate of the American Board of Plastic Surgery. Dr. Schwartz dedicates himself to creating policies aimed at enhancing safety and awareness for both patients and physicians. He is committed to promoting advances in medicine and serves on various American Society of Plastic Surgeons committees, including Health Policy, Patient Safety, Emerging Trends, Quality and Performance Measurement, and the Clinical Trials Network. He has also received national recognition with many 'Physician's Choice' and 'Compassionate Doctor' awards.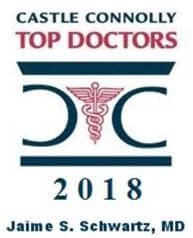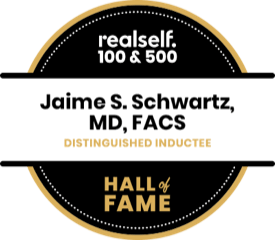 journey to Plastic Surgery
Dr Schwartz from a very young age always knew he was going to pursue healthcare. He comes from a long line of providers such as podiatrists, researchers and physicians. When he was young his father would take him to "round" on patients in the hospital on weekends. He spent time working in the office and began to attend surgeries before he was allowed to drive. He also grew up in an area that's considered a "cancer cluster" especially for breast cancer and was touched personally by this.
As he attended college at Tulane University and earned a bachelor of science in cellular and molecular biology, he also further delved into health, the human body and disease. He discovered that his curiosity in this field might be genetic. His mind was opened by books from a great-uncle (whom he never met) Dr Jay Milton Hoffman. Books such as Hunza: Secrets of the Worlds Oldest Living People (1968) and The Missing Link in the Medical Curriculum (1981) discussed topics such as how diet and disease are related were written way before there time. Dr Schwartz spent time learning all he could about these topics and dedicated research time at the Ochsner Medical Institute, one of the countries most research oriented centers.
After his extensive time working and studying healthcare, Dr Schwartz was accepted into the Georgetown University School of Medicine, which is one of the top 5 most selective schools in the United States.
During his time at Georgetown, he continued his trend of extracurricular research and education in addition to his rigorous medical curriculum at the world renowned Georgetown Lombardi Comprehensive Cancer Center, an NIH accredited National Cancer Institute. Here he was able to focus on his main interest, Breast Cancer by becoming involved in cancer research on Tamoxifen and courses such as tumor biology and the biological basis of cancer.
As a third year medical student on clinical rotations, his first surgery ever he was scheduled to assist was a Mastectomy for Breast Cancer. After the breast was removed he asked if he could stay to see the breast reconstruction. This is where his whole world changed. As the Plastic Surgeons began to reconstruct the breast they discussed the differences options such as expanders, implants, local TRAM or Latissimus flaps and micro-vascular DIEP flaps. The options seemed endless and the surgeries seemed very artistic. He was very intrigued. He was furthered exposed to more Plastic Surgical procedures such cleft lips and palates, diabetic limb salvage and wound care. The reality became that as a Plastic Surgeon he could be instrumental in touching peoples lives by putting them back together. He was hooked.
Under the auspices of the chairman, Dr Scott Spear Georgetown Plastic Surgery was one of the most influential departments in the world for breast reconstruction. Due to this, he ranked Georgetown University Hospital Plastic Surgery number 1 on his list for residency programs he wanted to attend (even above Harvard) . There were only 71 spots in the entire United States for Plastic Surgery training directly from medical school in the US and was accepted into his first choice. His training there set the stage for his career as one of the foremost authorities on breast surgery.
Georgetown University Plastic Surgery was one of the first Departments of Plastic Surgery in the country (not a division of General Surgery) and the training program was one of only a few at that time that was "integrated". What that meant is that Dr Schwartz spent his entire 6 years there focusing ONLY on plastic surgery. (If you did not get accepted out of medical school, the other way to become a plastic surgeon was to complete another residency such as general surgery for 5 years and then complete a 2 year fellowship in plastic surgery. This is why some doctors say they are Double-Board certified since they split their training between different fields).
During his training, Dr Schwartz completed close to 3000 procedures while authoring articles, textbook chapters both nationally and internationally as well as definitive, educational, special journal supplements for the Plastic and Reconstructive Surgery Journal of the American Society of Plastic Surgeons. His kind, caring demeanor toward his fellow colleagues and patients was rewarded with the Georgetown University Hospital's "Caring Star" award EVERY year (given by patients to the top healthcare providers at Georgetown University Hospital). He also took an active role in medical student and resident education where he won the highest teaching award as "Outstanding Resident Teacher Award" for the Department of Plastic Surgery and also the "Certificate of Professionalism" award from Washington Hospital Center medical staff.
His accolades from training allowed Dr Schwartz to pursue a fellowship. He was offered many positions including Harvard program at Beth Israel Deaconess and the world renowned Cleveland Clinic. He accepted the Cleveland Clinic Fellowship in Advanced Face and Body Aesthetics as a Clinical Instructor for their training program. He was afforded the opportunity to work alongside with the amazing physicians that performed the first "Face Transplant" in the United States and was also able to educate by overseeing residents and teaching them some of the art of breast surgery that he learned from Georgetown and Dr Spear.
Dr Schwartz was recruited to Southern California by Presbyterian Intercommunity Hospital as Chief of Plastic Surgery based on his academic excellence and national reputation as an Outstanding Aesthetic Surgeon and Reconstructive Breast Surgeon. Here he was tasked with building the hospitals first Plastic Surgery Department, reconstruction after Massive Weight Loss Body Contouring Program and creating and overseeing the Breast Cancer Reconstructive program from scratch. During his tenure as chief of Plastic Surgery he performed over 5000 surgeries and over 10000 cosmetic procedures. He developed novel techniques for breast cancer reconstruction using "AutoDerm", created the hospitals first nipple sparing registry, developed National Guidelines for Breast Surgery and Implants, was instrumental in obtaining national accreditation for the PIH Breast Center through National Accreditation Program for Breast Centers (NAPBC) and was a principle investigator for phase 2 FDA clinical trial for correcting and preventing poorly healed BREAST SCARS. He also was instrumental in changing the culture of breast reconstruction where "WOMEN MADE THEIR OWN CHOICES" about their care and options for treatment. He became a community figure from lectures in the hospital and local TV station, attending the monthly breast cancer support groups and creating a fundraiser known as "REJUVENATE FOR THE CURE"®. Understanding the best way to beat breast cancer is early detection, Dr Schwartz started a yearly event where would inject Botox and Fillers with all proceeds donated to the PIH Breast Center to offer free mammograms to those who could not afford them. He would raise enough money in 1 donated day of his time to give over 300 mammograms.
Hospital employees were incentivized to "Get Fit" and so many of them and their families lost hundreds of pounds. Dr Schwartz was tasked with helping all of them regain their bodies by surgical body contouring. He performed hundreds of tummy tucks (including circumferential, fleur de lis and lower body lifts), Arm lifts, Thigh lifts, Back lifts, Breast lifts with and without Implants as well as Contouring Liposuction.
He continued his active leadership role in patient care and safety, by serving on numerous committees at Presbyterian Intercommunity Hospital, including Patient Safety, Patient Experience, Surgical Administration, and Research Oversight. In recognition of his "patient-first" ethics and hard work, he was awarded the highest-level Physician Excellence Award.
American Society of Plastic Surgeons-Leadership Development Committee, 2015-present: Member
American Society of Plastic Surgeons-Breast Reconstruction Performance Measure Development Workgroup, 2014-present: Member
American Society of Plastic Surgeons-PSEN Editorial Committee-Aesthetic Subcommittee, 2014-present: Member
American Society of Plastic Surgeons-Public Education Committee, 2014-present: Member
American Society of Plastic Surgeons-Research Development Committee, 2014-present: Member
American Society of Plastic Surgeons-Clinical Trials Network Committee, 2013-Present: Member
American Society of Plastic Surgeons-Quality and Performance Measurement Committee, 2013-Present: Member
American Society of Plastic Surgeons-Patient Safety Committee, 2013-Present: Member
American Society of Plastic Surgeons-ASPS/ASAPS Emerging Trends Committee, 2013-Present: Member
American Society of Plastic Surgeons-Health Policy Committee, 2012-present: Member
American Society of Plastic Surgeons-Breast Reconstruction with Tissue Expanders and Implant Workgroup, 2011-12: Member
Presbyterian Intercommunity Hospital-Surgical Administration Committee, 2012-2014: Member
Presbyterian Intercommunity Hospital-Cancer Committee, 2010-2014: Member
Presbyterian Intercommunity Hospital-Research Oversight Committee, 2011-2014: Member
Presbyterian Intercommunity Hospital-Patient Experience Committee, 2012-2014: Member
Presbyterian Intercommunity Hospital-Patient Safety Committee, 2012-2014: Member
Asia-Pacific Dermatology and Cosmetology Conference. Tokyo, Japan August 2018
Adjunct Plastic Surgical Procedures in the Lipedema Patient. Is there a medical necessity? Fat Disorders Research Society. Salt Lake City, UT, in the April, 2017
LipoLift™. The Aesthetic Show. Las Vegas, NV. July 2017
Botox for the Treatment of Vaginismus. The Aesthetic Show. Las Vegas, NV. July 2017
LipoLift™. The Doctors Tv Show. March 22, 2017
Cancer and Cosmetic Breast Reconstruction, Is There a Difference? Plastic and Cosmetic Surgery Conference. The Grand, Long Beach, CA November, 2014
Current Trends in Aesthetic Surgery. Activate Whittier Television Recording. Whittier City Hall, Whittier, CA May, 2013
Hospital Whittier, CA. Intercommunity⋅Skin Care and Aesthetic Services. Community Speaker Event, Presbyterian April, 2011
Hospital Whittier, CA. Intercommunity⋅State of the Art Aesthetic Surgery Options. Community Speaker Event, Presbyterian January, 2011
Breast Reconstruction Options. Tea for Triumph Breast Cancer Survivors. Brea, CA October, 2010
Breast Augmentation. Senior Residents Conference Austin, TX Submuscular⋅Schwartz, JS. Outcome Assessment of Breast Distortion Following January, 2009
by senior author San Diego, CA ASAPS Breast Augmentation. Presented at Submuscular⋅Spear SL, Schwartz JS, Dayan JH, Clemens MW. Outcome Assessment of Breast Distortion Following May, 2008
Couch KS, Schwartz JS. Use of bi-layered living cell therapy in recalcitrant wound healing. Abstract poster presentation at the Symposium for the Advancement for Wound Care, San Antonio, TX, May 2006.
Testimonials
"Dr. Schwartz and his staff at The Roxbury Institute made my experience with plastic surgery an amazing one. Over the past few years, I lost a lot of weight and was carrying around a good deal of extra skin that needed to be removed. Dr. Schwartz spent a lot of time with me developing a plan and walking me through each of the multiple procedures that would help me get the body that was only in my dreams. I had a  breast augmentation, a breast lift and a bra line back lift for my first round at The Roxbury Institute. I've never been confident in my body, Dr. Schwartz helped me see what I could become.It's hard to balance science with sexy, Dr. Schwartz and his team are the experts at both. He's incredibly knowledgeable and skilled in his craft and it shows in his results. Everything he told me about my experience and my results came true. My entire experience, from pre-op planning, to the surgery, to the aftercare went as smoothly as I could have ever hoped.Dr. Schwartz invests in every step of his patients' care. He and the whole team at The Roxbury Institute will ensure that you're healthy and happy throughout the entire process. If you are at all considering having plastic surgery, I highly recommend that you stop by and talk with Dr. Schwartz, it's so worth it!!I'm finally starting to like the skin I'm in and that's only because of Dr. Schwartz and his amazing work."
A.W.
Yelp
"Why did I not find this place BEFORE I had implants.Dr. Jamie Schwartz is just amazing.  What he did with what little he had to work with is just amazing.Short story: 4th breast surgery, terrible stretched skin, Dr. Jamie Schwartz removed my implants, did a lift and made them better than when I was 17.Long story: At 20, in 1980 (the stone age of plastic surgery in a hospital in rural Long Island), I had a breast reduction mastopexy.  After having a baby in 1999, the boobs just did not hold up so I went to everyone in Orange County and out by where I lived in Corona.  In 2002 found a Doctor who did an over the muscle silicone implant, which only stretched my skin more.  In 2006, I started having pain after my mammogram and went to everyone I could find since I now lived near Beverly Hills and there were so many Plastic Surgeons to choose from  I even went to one of the surgeons who was on the "Extreme Makover" TV series.  No one wanted to touch me because they feared losing blood supply to the nipple.  I did find someone at a "Modern" Plastic Surgery place in Beverly Hills  who removed the ruptured implants and did new under the muscle textured silicone implants.  After years of progressive unexplained immune system issues, I decided to lose the implants as I feared they were responsible for my illnesses.  I went to the Roxbury Institute based on the reviews I read for Dr. Schwartz.  What the reviews did not go into was how exceptional everyone there is.  The level of care I received before, during and after the surgery was nothing short of amazing.  Dawn Rapazzo, Dr. Schwartz' OR Nurse/Assistant even came to my house to check on me.  Wow.  She called or texted or both every day, visited me in the Pearl Recovery Center (It was worth it for me) and just went the extra mile every single interaction we had.I have better breasts now than when I was 17.  Dr. Schwartz made sure to save the nipple blood supply despite going in after 3 other surgeons have moved things around.  And he preserved sensation, which is a bonus.  In seeing before and after pictures of implant removal, even the photos of Tawny Kitaen, I had very low expectations.  Dr. Schwartz did a magnificent job.  Just amazing.  I wish I never had implants, but from the look of things now, you can't tell I ever did."
Y.R.
Yelp
"I love, love, love Dr Schwartz! He is not just amazing surgeon, but he also cares for his patients. Perfectionist as well: he's only satisfied with the best work and that is what he delivers. I considered breast augmentation and lift for a while, but after meeting Dr Schwartz I made up my mind right away. My life changed after the procedure. I love my breasts now! Thank you Dr Schwarts for changing my life!"
D.C.
Yelp
"I went to Dr. Schwartz for Botox and it was such a painless and easy experience. He made me feel at ease even when he was coming at me with needles! And the results are fantastic. I love looking at myself in the mirror and seeing my wrinkle-less forehead!"
J.K.
Yelp
"Stop looking for Doctor's. This guy is the one. He is Amazing!!. He does miracles. I has lost all hope. Thanks to Doctor Jaime SchwartzWonderful bedside manner.After having been botched by a different doctor I was terrified of having any more attempts at breast augmentation revision.In the past year and a half I have seen over a dozen doctors for breast revision. I didn't feel comfortable with any plastic surgeon until met Doctor Schwartz. Aside from having magic hands he truly loves what he does and is great at it. His staff is wonderful also.I came across doctor Schwartz by visiting doctor Amron who is one of the top Lipedema surgeons. He is also an amazing doctor. I wouldn't go to anyone else aside these two miracle doctors I'm very grateful to both doctors."
L.R.
Yelp
Related Posts